We are a vertically integrated manufacturer at North Coast Plastics. Being vertically integrated means that we control our entire manufacturing process from the incoming raw material (plastic resin) to finished product (custom plastic bags).
Because we are vertically integrated, when we sell bags to a customer we can confidently say that it is to the highest of standards, and this is something we take great pride in.
The Manufacturing Process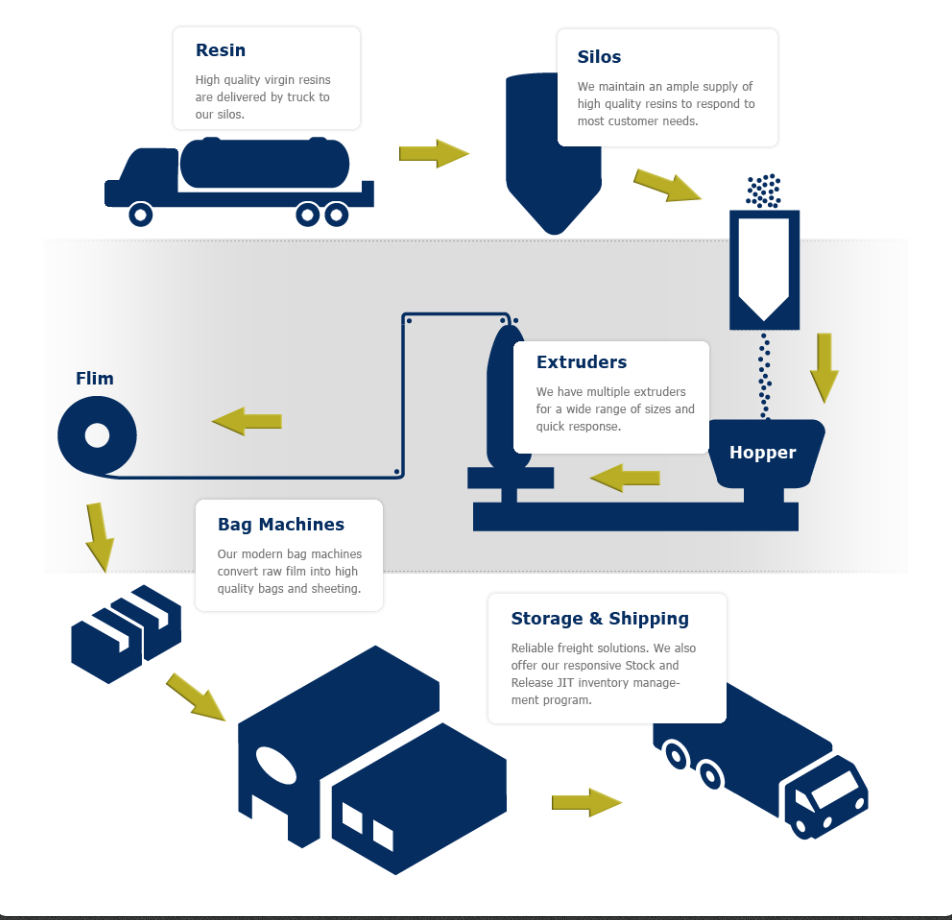 It all starts with plastic resin, which is delivered via bulk truck and is loaded into 80,000# silos on our property. Another important note is that all of our plastic resin conforms to the necessary regulations of the Food and Drug Administration (21 CFR 177.1520 © 3.2a and 2.2 and 178.201) for use in the manufacture of articles intended for contact with food.
From the silos the resin is moved into the production facility for processing.
We have four film extruders in our plant that extrude tubing from 2" in diameter up to 48" in diameter. The film can be clear, tinted or opaque and the thickness ranges from .9 mil to 6 mil.
The film is put onto a "work in progress roll" and each roll is labelled with an inventory tag that includes the customer order number, customer name, material size and gauge and roll tracking information.
We also keep detailed production records so that if something were to arise after the poly bags were made, shipped and delivered, we could refer back and address the issue timely and efficiently.
The rolls of film are then used to manufacture the finished custom poly bags on various bag converting equipment within our facility.
The film can be converted on our high speed wicket machines to make custom wicketed bags or on our flat bag machines to make a lip and tape bag. We can also produce staple pack bags and poly bags on rolls for easy tear off.
Each of our experienced packers custom pack the bags into corrugated boxes. Depending on the weight of the bags determines how many bags go in a box. And, the weight and size of the bags determines the size of the box used.
Each finished box packed with bags is then placed on a wooden pallet. Most of the wooden pallets used are a standard 48" x 40" two way pallet. But, we do use custom designed wooden pallets from time to time if a customer needs it. The size and the weight of the finished case of bags determines how many cases are stacked on a pallet. We try to limit the weight of a finished pallet to not exceed 1,200 pounds.
Each pallet of finished product is stretch wrapped, labelled on all four corners with bright yellow "do not double stack" stickers, and placed in the warehouse to await shipping.
Unless our customer requests a specific freight carrier we contact the carriers that we have negotiated service contracts with to pick up and deliver the bags to our customers. Certain freight carriers service various locations of the country more efficiently than others.
Our shipping coordinator creates a bill of lading, schedules the pick up, and applies the necessary shipping labels to the pallet of finished goods. The selected carrier's truck arrives at our dock, the carrier's driver checks the bill of lading against the pallet(s) of product labeled for pick up, once confirmed that both match, the driver applies the correct bill of lading tags to the pallet(s), one of our experienced material handling team members carefully loads the pallets of finished goods on to the carriers truck, and the pallets of finished product are on their way.
Summing It Up
Giving our customers the best quality of product and service possible is at the heart of everything we do. If you have any questions about North Coast Plastics, the plastics industry or if you are looking to place an order, please don't hesitate to contact us.