Are you looking for a more effective plastic bag solution to package your product(s)?
Are you losing efficiency on your production line because your operators are spending too much time handling individual poly bags?
If you answer yes to either of these questions then a wicketed bag (wicket bag) may be just what you need.
At North Coast Plastics, we have been working with all kinds of customers and manufacturing poly bags for 20 years. We extrude our own film which gives us the opportunity to control how quickly we can get product to our customers. We like to think we know a thing or two about which type of bag is best for which type of customer.
Wicketed bags help our customers increase their packaging speeds and efficiencies which saves money and time that leads to increased profitability.
We wrote this article to help you understand what a wicketed bag is, what types of industries they are best suited for, and what they can cost.
What is a Wicketed Bag?
Wicketed bags are stacked plastic bags arranged neatly on a wire wicket and held in place with rubber washers and, sometimes, a chipboard header. They traditionally have a 1.5" lip with starter notches and/or side notches.
These bags can be manufactured with a bottom gusset, full or butterfly vents, perforations, printing, and color tint. And, they can be made with permanent or resealable tape for easy closing.
A full wicket of bags usually consists of 100 or 250 bags per wicket. This pack out can be customized depending on the size and gauge (thickness of material) of the bag.
Having multiple bags neatly stacked on a wicket can improve your packing process. You can also include fully or semi automatic packing equipment to increase speed. This eliminates the unpacking of bags from a box one at a time.
Depending on the size of the bag wicketed bags can be manufactured on high speed equipment or manually produced on slower running equipment. Manually produced or "hand wicketed" bags require operators with very flexible hands and fingers. Hand wicketting is a much slower process and can lead to higher costs. But, many people find that having neatly stacked bags of any size increases the speed at which packaging operators can complete their tasks and the increased efficiencies offset the increased cost of the bag.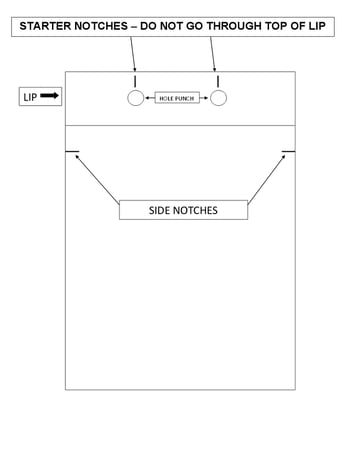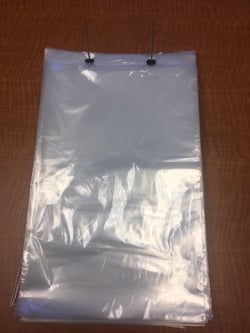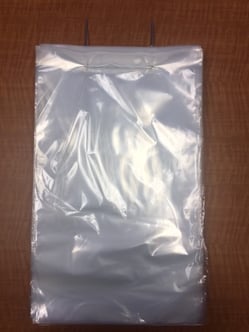 How Are Wickets Designed?
Wickets are available in many sizes. They have a shoulder and a leg. The wicket size is referenced as the shoulder width by the leg length. In other words a 5" x 4" wicket has a 5" shoulder and a 4" leg. Our wire wickets are made from 11 gauge (0.118") galvanized steel wire. We have a wide variety of wicket sizes ranging from 2" x 2.5" to 14" x 6". The wickets can be With- Ball-End or Without-Ball-End (Plain End).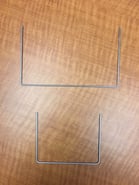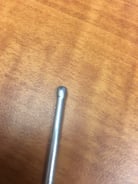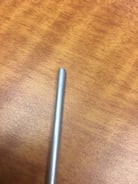 Who Uses Wicketed Bags?
Wicketed bags are offered for food and non food packaging. The bags can be manufactured in many sizes...width and length. Many food packaging lines are equipped with automatic packing equipment. Many industrial packaging lines are equipped with workstations that are designed to hold the wicket of bags so the packaging operator is free to easily remove a bag from the wicket after the product is placed inside.
We like to suggest that a trial run be done with manufactured bags on automatic equipment. Each machine is unique and the set up of those machines can be tedious. Sometimes tweaks to the bag construction are needed to make sure you have a smooth packaging process.
How Do You Seal A Wicketed Bag?
Another positive feature of the wicketed bag is how easy they are to close. Like we talked about earlier,, tape can be applied to these bags. Zipper closures can also be an option. Or, the more traditional closure options are heat sealing and zip ties. There are a number of options available for protecting your product once inside the bag.
What Does A Wicketed Bag Cost?
As with any custom manufactured plastic bag the cost is dependent on the specific design. There are so many options available to you as a buyer, that it is hard to give an exact cost. What we can do though, is give you an estimate. Let's look at an example:
Bag Specification - 10" x 12" + 1.5" lip x 1.5 mil clear LDPE poly bag on 5" x 4" wickets.
The estimated cost for 35,000 bags (approximately 500# of material) is $25.85 per thousand bags PLUS freight to your destination.
Wicketed bags are normally priced in per thousand quantities. Sometimes you will see them priced as per case if that is the way a customer prefers. The cost of wicketed bags range from $7.00 per thousand bags to $200.00/thousand bags. Again, it all depends on the size, the thickness of material, and the value added features necessary to meet your specifications.
What Do I Do With The Rubber Washers and Wire Wickets?
We work hard to assist our customers in sourcing sustainable products. North Coast Plastics is concerned about our environment and is always looking for ways to limit the materials feeding the waste stream.
You are going to be left with rubber washers and wire wickets after production. We would be happy to reuse the items you have remaining from your production runs. After placing an order with us we would be happy to discuss the return process for these items with you.
Summing it Up
We hope this blog provides the information you are looking for when it comes to wicketed bags.
When applied to the proper application, wicketed bags can help make your packaging process more efficient which will lead to improved profitability.
And with our return program for your wickets and washers we are making a positive impact on our environment.
If you have additional questions or would like additional information feel free to contact us and we will get you the information you need.