Are you looking for a plastic bag that will protect your product, give your product a clear/clean and professional look , and provide a permanent, or temporary, seal to protect your product while being shipped?
A lip and tape bag (sometimes referred to as peel and seal), may be just what you're looking for.
Lip and tape bags are a great alternative to things like zipper or heat sealing bags and here at North Coast Plastics and they have a few other benefits as well.
In this article, we are going to cover the different types of lip and tape bags, what they are used for, and how much they cost.
What is a Lip and Tape Plastic Bag?
Lip and tape bags are plastic bags that have an extension on one side of the bag referred to as a lip.
The lip side of the bag will have an strip of adhesive with a liner applied to it. When you remove the liner it will expose the adhesive strip. When you fold the lip over, it will cover the opening of the bag and the adhesive strip will contact the opposite side of the bag providing a solid seal for your product.
Lip and Tape bags can be used as an alternative to zipper bags, or heat sealing your plastics bags. They are sometimes known as "peel and seal" bags.
These types of bags offer a few benefits like:
easy to use/seal which can save time in the packing process
serve as an alternative to heat treated or zip-lock bags
come in a wide variety of widths and heights
resealable and permanent seal options available
Types of Tape and Liner?
Tape for plastic bags can be made in many different configurations. There are basically two adhesive options and numerous liner configurations.
The adhesive options we use at North Coast Plastics are permanent and resealable.
Permanent Adhesive
A permanent adhesive, once sealed, will not release from the bag when the folded lip is tugged on to open. The bag is sealed by removing the liner and folding the lip over to adhere to the other side of the bag.
Trying to reopen the bag with a permanent adhesive results in the plastic bag film ripping apart.
Resealable Adhesive
A resealable adhesive allows you to reseal the bag 7-12 times after the initial opening.
Environmental conditions can have an impact on the adhesive and the number of times you are able to reseal the bag.
Liner Options
As for liner options we use three different types of liners.
It is important to know that once you remove the liner and seal the bag it takes 10-15 seconds for the adhesive to activate and properly seal the bag.
If you try to open the bag, especially one with permanent adhesive, you may find that the bag does not perform properly.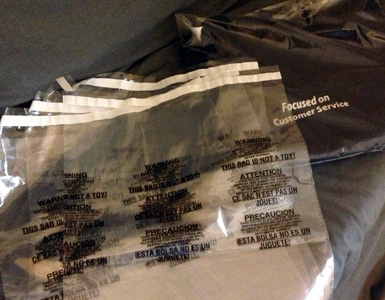 How Are Lip And Tape Bags Packed?
Lip and tape plastic bags are normally packed loose in a box. Depending on the weight of the bag, a full case can weigh up to 40lbs. We try not to exceed 40lbs per carton to protect the safety of our packaging operators.
We had started having our customers ask if we would provide our lip and tape bags on wickets for easier packing. Since then, we have seen wicketed lip and tape bags serve as one the best ways to use lip and tape bags. You can read more about wicketed bags in our article: What is a Wicketed bag?
Customers found that they can increase packaging efficiencies by using wicketed bags versus loose bags. When using wicked bags, packers don't have to grab individual bags from a box.
To make a lip and tape bag on a wicket, the lip of the bag must be extended 1 1/2" to 3."
Most lip and tape bag's lips are 1 1/2".
The tape is normally placed at the mid point of the lip. We place a fine serration on the lip at 1 1/2" for an easy tear off. The bag tears away from the wicket and you are left with a lip and tape bag with a 1 1/2" lip with the tape applied and ready for use.
How Much Does A Lip and Tape Bag Cost?
As with any custom manufactured plastic bag the cost is dependent on the specific design. There are so many options available to you as a buyer, which makes it hard to give an exact cost. The tape itself adds a significant cost to the bag.
Let's look at an example:
Bag Specification - 10" x 12" + 1.5" lip x 1.5 mil clear LDPE poly bag with permanent adhesive tape across the width of the lip.
The estimated cost for 35,000 bags (approximately 500 lbs of material) is $34.60 per thousand bags PLUS freight to your destination.
The cost of lip and tape bags range from $7.00 per thousand bags to $200.00/thousand bags. Again, it all depends on the size, the thickness of material, and the value added features necessary to meet your specifications.
Summing it Up
We hope this blog provided the information you were looking for when it comes to lip and tape bags.
These bags are very popular in the eCommerce and distribution market segments. They provide a nice clean and secure package for you to get your product to your customer.
If you have additional questions or would like additional information feel free to send us a message and we'd be happy to help you out!