Not sure whether you should go with registered or random print on your plastic bags? Well then you have come to the right place.
At North Coast Plastics, we have been extruding our own film and manufacturing plastic bags for 20 years. In those 20 years we have worked with a lot of customers in different industries who all have different needs when it comes to their bags.
One of the most common questions we hear from our customers is regarding which type of print to use on their bags.
There are two kinds of printing that can be applied to plastic bags: random repeat and registered.
In this article we are going to dive into both types of printing in terms of what they are, who they are best suited for and how much they cost.
What is Random Repeat Printing?
Random repeat printing on a plastic bag prints an image that will always appear, in full, at least one time on each bag. Additional impressions of the same image will be printed but will not include the entire impression. All images printed will be in alignment on the bag.
Random repeat printing is often used in situations where the image is on the bag for safety or labeling reasons rather than a decor or branding type of printing.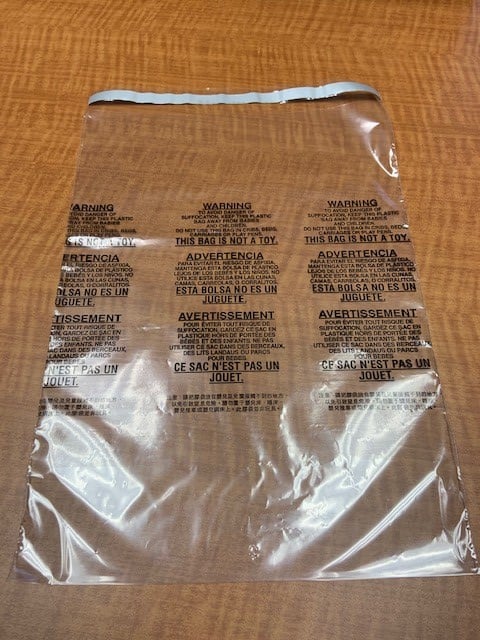 What is Registered Printing?
Registered printing on a plastic bag refers to the specific placement of an image on a bag. The image prints in the exact same location on each bag. Images can be single or multiple colors.
When printing registered print there will be an eye mark located on the bag to alert the bag machine when to cut and seal the bag during the manufacturing process.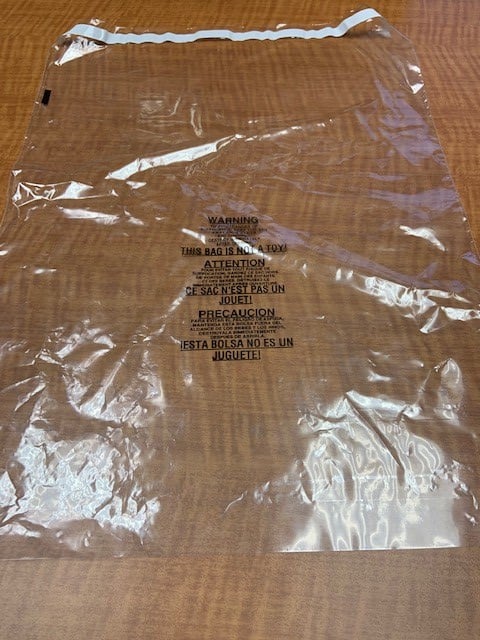 Cost
When it comes to cost it always depends on what type of customization's you are making to your bags and how many you need. It will depend on the size, the thickness of material, and the value added features necessary to meet your specifications.
Although we can't give you an exact cost without knowing your specific needs, we can talk you through an example as well as the types of things that can impact cost.
In most cases, random repeat bags are less expensive than registered print bags.
At North Coast Plastics we can produce a random repeat print bag at a far less cost than a registered print bag. We have a unique manufacturing process that lets us offer a less expensive cost.
As with any custom manufactured plastic bag the cost is dependent on the specific design of the bag being printed.
Let's look at an example:
Bag Specification - 10" x 12" x 1.5 mil clear LDPE poly bag.
The estimated cost for 75,000 bags (approximately 1000# of material), with a registered print, is $32.55 per thousand bags PLUS freight to your destination.
The estimated cost for 75,000 bags (approximately 1000# of material), with a random repeat print, is $24.30 per thousand bags PLUS freight to your destination.
As you can see...we are offering a 25% reduction in cost for a random repeat print bag vs. a registered print bag.
If you are spending a lot of money each year on printed bags, this would add up to a significant discount for you.
Which Type of Printing is Best For Me?
When it comes to selecting the right type of print for your bags it all comes down to what your needs are.
Typically, random repeat printed bags only use one color of ink and is often times used for things like bio-hazard images or recycling images, or suffocation warning images. These types of images need to be on the bag to meet plastic bag labeling requirements but it is not as important that the image appear on the bag only once.
Another huge advantage to a random repeat printed bag is speed to market. At North Coast Plastics we can manufacture most random repeat printed bags twice as fast as a registered print bag. This reduces your lead time and gets you your product quicker.
On the other side, registered printing is typically used when multiple colors of ink are needed in the image such as a logo or company specific images. In these situations, the customer often wants the logo to be clear and centered on the bag which is why registered printing is sometimes the best way to go.
Like we said earlier in the cost section, a registered printed bag is usually more expensive than a random repeat printed bag..
Summing It All Up!
We hope this article helped you learn a bit more about your options when it comes to printing on your plastic bags.
Although it can seem confusing, both types of printing are actually quite different and as long as you are aware of the pros and cons of each, deciding which is right for your needs shouldn't be too difficult.
If you have more questions about random repeat printing or registered printing, send us a message and we'd be happy to help you get the answers you need.